---
"The Directors" shines the spotlight on 91 of Hollywood's finest directors, from Robert Altman to Edward Zwick, in 91 one-hour episodes, each focused on a single director. Straight talk and clips from the films of masters such as Steven Spielberg, Martin Scorsese, James Cameron, George Lucas, Clint Eastwood, Nora Ephron, Tim Burton…. illuminate each director's distinctive vision and work. They discuss their creative choices, careers, and influences, and give the inside scoop on Hollywood.
Guest stars like Tom Hanks, Harrison Ford, Natalie Portman, Morgan Freeman, Laura Dern, Liam Neeson, Jodie Foster, Meryl Streep, and Leonardo DiCaprio give insights into what it's like to work with these film icons.
These uniquely compelling programs speak to the rich variety of style and substance in the directing craft. More than fifty years after Sidney Lumet's first movie,"Twelve Angry Men," opened in 1957, the master of emotional, socially relevant films like "Dog Day Afternoon" and "Network" was still working. Clint Eastwood tells brutally harsh stories of injustice and redemption ("Unforgiven" and "Mystic River") yet shines in comedy and romance ("The Bridges of Madison County"), just as the breezy romantic comedies and coming of age films of Rob Reiner, like "When Harry Met Sally" and "Stand By Me," contrast with hard-hitting dramas like "A Few Good Men". And Steven Spielberg proves that blockbusters like "Jaws" and the "Indiana Jones…" franchise are not inconsistent with powerful films with a social conscience, like "Schindler's List" and "Amistad".
This award winning series shows what it takes to be a director.
Produced by Media Entertainment Inc. in cooperation with the prestigious American Film Institute, offered by Chilmark Programs Inc. 91 one-hour episodes.
Preview titles from the Directors series here. Contact us to preview more titles.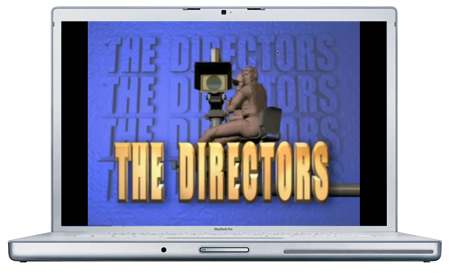 Robert Altman
Darren Aronofsky
John G. Avildsen
John Badham
Michael Bay
Harold Becker
Robert Benton
Tim Burton
James Cameron
John Carpenter
Michael Caton-Jones
Rob Cohen
Chris Columbus
Martha Coolidge
Roger Corman
Wes Craven
David Cronenberg
Cameron Crowe
Frank Darabont
Andrew Davis
Jan De Bont
Jonathan Demme
Richard Donner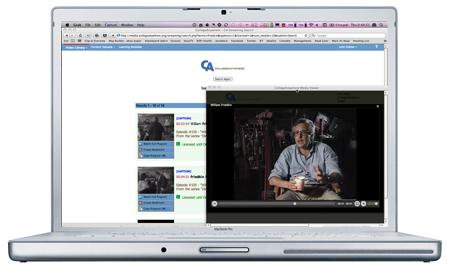 Nora Ephron
Atom Egoyan
Roland Emmerich
Clint Eastwood
Bobby & Peter Farrelly
Mike Figgis
Milos Forman
John Frankenheimer
Carl Franklin
William Friedkin
Terry Gilliam
Lasse Halstrom
Scott Hicks
Arthur Hiller
Ron Howard
Peter Hyams
James Ivory
Norman Jewison
Neil Jordan
Lawrence Kasdan
Philip Kaufman
Spike Lee


Barry Levinson
Richard Linklater
George Lucas
Robert Luketic
Sidney Lumet David
Lynch Adrian Lyne
David Mamet
Michael Mann
Garry Marshall
Penny Marshall
John McTiernan
Anthony Minghella
Phillip Noyce
Alan Pakula
Alan Parker
Wolfgang Petersen
Sydney Pollack
Brett Ratner
Rob Reiner
Ivan Reitman
George Romero
Gary Ross
Herbert Ross
David O. Russell
Jay Russell
Mark Rydell
Paul Schrader
Martin Scorsese
Ridley Scott
Tony Scott
Joel Schumacher
Bryan Singer
John Singleton
Kevin Smith
Barry Sonnenfeld
Steven Spielberg
Barbra Streisand
Oliver Stone
Andy Tennant
Jon Turtletaub
Irwin Winkler
Robert Wise
Robert Zemeckis
David & Jerry Zucker & Jim Abraham
Ed Zwick
Copyright 2017 CollegeAnywhere, Inc. | All Rights Reserved
contact us:
info@collegeanywhere.org
| 855.227.8732 | 267.702.3962