CollegeAnywhere helps faculty teach and inspire students by providing tools and resources that bring rich media content to teaching and learning. (our users comment)
As our mission statement explains:
CollegeAnywhere provides online technology and tools of the highest quality to deliver institutional created media and licensed media content at the lowest possible cost to advance the educational missions of higher education institutions.
CollegeAnywhere (CA) is a unique collaboration among higher education institutions. CollegeAnywhere is a member driven non-profit consortium which provides today's faculty and students with enhanced rich media educational experiences through an array of technology content and tools. The Consortium is built on a 20-year history of developing and delivery innovative technologies, products and services to support instruction.
CollegeAnywhere is a non-profit created to develop and deliver non-commercial, innovative and cost effective content, media and tools for its members and associated organizations. The Consortium offers affordable innovation designed with ease of integration in mind.
CollegeAnywhere business practices are built on traditional non-profit principles of providing cost-effective service and directing revenue back into research and development for the benefit of its members and associated organizations.
CollegeAnywhere and its content partners are collaborating to offer an affordable suite of top notch content, products and services focused on improving the quality of instruction and enhancing learning. Our instructor-centric offerings provide institutions and faculty with quality content, such as the award-winning Annenberg Learner Collection and the Business Library, which can be easily accessed, and incorporated via streaming, into courses through any content management system.
CollegeAnywhere is supported by a staff and board with decades of experience in leading academic media and technology.
CollegeAnywhere Streaming, combined with its content partners, provides:
Affordable content, tools and services from one provider
–
Technology built to stay ahead of the curve
–
Ease and flexibility for instructors to develop and create courses that meet different learning styles
Today, higher education needs to engage a new type of student. For these students, technology is at the center of their learning, interaction and information, where they are always connected. These students are engaged in their learning and prefer visual and kinesthetic activities.
Instructors are responding to the needs and learning styles of these new students by developing engaging online content which contains a wide variety of media. High quality video content, combined with the technology of CollegeAnywhere enables instructors to successfully create the desired engaging learning environment for these students.
Instead of pre-defined chunks of content, the CollegeAnywhere Search Tool and Bookmarking Tool provide instructors a quick and easy way to find specific content they need to enhance a lesson, in the format and length they want, and add it to their online courses, seamlessly.  The Learning Module Tool allows development of quick self-assessments using any content as a starting point, without needing to use a learning management system. These tools are instructor-centric and were designed by instructors and instructional designers to give your faculty absolute flexibility and control.
CA also provides My Uploads for instructor video and other content, and direct integration of CollegeAnywhere into leading Learning Management Systems, including Blackboard, Canvas and Brightspace by Desire to Learn.
Contact us for more information.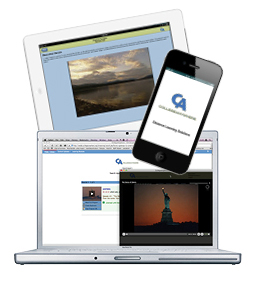 CollegeAnywhere's lead staff, based in the Philadelphia region, includes:
John Kahler, Executive Director – (855) 227-8732 ext 702, john.kahler@collegeanywhere.org
John brings over 30 years of experience in academic media and technology, including medical media and academic media positions at the Hospital of the University of Pennsylvania, The Bryn Mawr Hospital, and the University of Pennsylvania School of Nursing. At The Lutheran Theological Seminary at Philadelphia, where he last served as Director of Communications and Manager of the Media Center/Instructional Design, he lead the teaching and learning technology use at the school, including developing online and blending courses using rich media delivered through Blackboard Learn, as well as leading the school's communications and marketing efforts. For several years, John was manager of the Home College Service of WHYY, Philadelphia public broadcaster, where he did early work that evolved into CollegeAnywhere. John served as member and chair of the CollegeAnywhere board before joining the CollegeAnywhere staff. John also is an independent media producer who has created content for the PA Attorney General's Office, the University of Pennsylvania, Sports Video, Inc., and other clients. John works with potential, new and existing CollegeAnywhere users to insure their best use of CollegeAnywhere in their teaching and learning.
Norm Green, Manager of Support and Client Relations – (855) 227-8732 ext 702, support@collegeanywhere.org
Norm, a Communications graduate from Temple University, is the lead support person at CollegeAnywhere, and is often the person CollegeAnywhere users find ready to help when they need assistance. While at WHYY, Norm did similar work supporting CollegeAnywhere users, along with other assignments, and joined CollegeAnywhere when it became independent. Norm also is a DJ and media producer, and works with media projects in the Philadelphia region.
The CollegeAnywhere Board, consisting of academic technology leaders, instructional designers, distance learning leaders and faculty, is an active and involved group of volunteers which guides CollegeAnywhere in carrying out its mission.
Our Board Members:
Josh Piddington, Chair
Doug McConatha, Vice Chair
Scott Purdy, Treasurer
Dave Coates
Tom Murray
Our mailing address for correspondence: CollegeAnywhere, PO Box 150, Glendora, NJ 08029
 And CollegeAnywhere is our users, the academic institutions, faculty, instructional staff, and students that we serve. Here's what a student recently said after asking for help from our support team:
"I am so grateful to know that we have people like you out there to help. I'm returning to college as an adult which can be pretty intimidating. You have made me feel like I have a team in my corner that won't let me fail. You're doing a great job!"
Copyright 2020 CollegeAnywhere, Inc. | All Rights Reserved
contact us:
info@collegeanywhere.org
| 855.227.8732 | 267.702.3962