Welcome to CollegeAnywhere!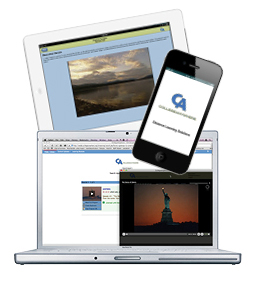 CollegeAnywhere helps faculty teach and inspire students by providing tools and resources that bring rich media content to teaching and learning.
Recording and resources from the CollegeAnywhere webinar 
MOOCs and Blended Learning: Trends in Teaching and Learning 
are online here.
Recordings and resources from CollegeAnywhere's webinars 
are available on the CollegeAnywhere website.
NEW! The Blackboard Building Block update integrating Content and Video upload tools IS NOW IN RELEASE - see the blog for details.
In addition to our browser based tools, the CollegeAnywhere Blackboard Building Block, introduced at Blackboard World 2012, seamlessly integrates CollegeAnywhere tools into the Blackboard user interface. Not a Blackboard user? No problem, CollegeAnywhere works with any LMS, or no LMS at all!
Media content is delivered to students using Windows, Macintosh and Linux systems as well as popular portable devices, accessible to a wide audience without the hassle of installing special web browser plug-ins. If you have an Internet connection, you can access CollegeAnywhere delivered content.
As our mission statement explains:
CollegeAnywhere provides online technology and tools of the highest quality to deliver institutional created media and licensed media content at the lowest possible cost to advance the educational missions of higher education institutions.